Data Recovery Services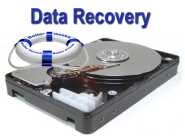 When your data has been lost we may be able to get it back!
Data loss is a catistrophic loss for anyone. Fortunately we have the know-how and the special software utilities that will allow us to recover most data. Even if it has been accidentally deleted we may be able to recover it for you. We will diagnose the problem and attempt to recovery your data first by the least expensive more timely way then if we are not successful we will take it to the next level to get your data back.
Please note this service only works with hard drives that are functioning.
For those whom have hard-drive crashes your data still might be saved, but we leave this to the experts in the buisness of rebuilding hard drives for data recovery purposes only. We are partnered with DriveSavers to accomplish this to get you a better price.
How do you know if your hard drive has crashed?
What do you do if your drive has crashed?
If you do not hear the dreaded clicking, scraping or light sabre noise, and there is crucial data on the drive you can try to back it up if at all possible.
Call HHI Computer Guys. We can help!
What NOT to do if your drive has crashed with clicking or grinding noise
Do NOT use a software utility to recover data if the drive makes clicking or grinding noises
Do NOT keep using your computer if there is crucial data on the drive
Do NOT keep turning on and off the computer to try to use software based drive recovery tools as the mere starting of the operating system and running any software can take further toll on the drive and may cause permanent data loss.
DriveSavers our partner for Data Recovery Services for failed hard drives has provided this nice video showing what happens when a drive crashes.
They are the professionals when recovering data from crashed drives, if it can be done DriveSavers can do it. If you drive has crashed we can send it in for a free evaluation and quote. Here is a video of them at work in their certified clean room.